Android version 6.
The translator is not translating. Input ok but no output.
Ditto on ipad. In fact on my iphone even the translate logo isnt showing.
Whoa…UPDATE 15.47
Logo on iphone has now appeared and translate function is working.
Translate function on ipad running 12.5.1 still not working.
Sorry about that, we were testing an alternate translation method, and thought we would be quick enough that no users would notice

All should be good now, but you might have to crash and relaunch the app a couple times. Sorry for the confusion and thanks for letting us know!
Joel
Translate function on iPad 12.5.1 still not working despite a couple of crash relaunches.
Strange, can you send a screenshot?
Here ot is. You will see that I am now getting a pop up "Cookie Nonce etc". I have never ever encountered that one!!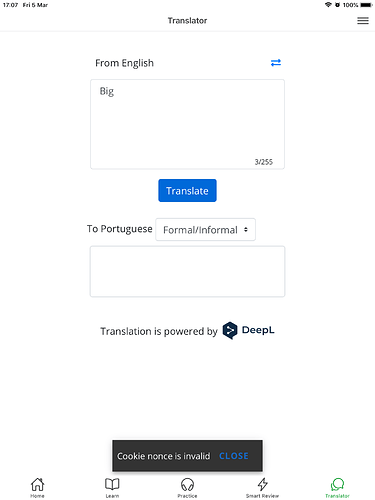 Translate still not workng on Android vers 6 after carrying out. 2 crash and relaunch.
Thanks for the update! Strange… if you both log out and back in, does that help at all?
Nope…but I dont get that strange "nonce" message now!
Have logged out and in but still not working. Have there been any reports to say it is working?
Thanks for the update! Good news, I managed to reproduce it. Seems to only happen on Android. Hopefully easy to fix on Monday. If you want to take it for a spin it's also available at practiceportuguese.com/translator
Joel. I am ipad ( IOS) so it isnt just Android.
Mac
Hey @mac.cummings and @davidcowling949 This should be working now! I found a workaround that resolved it on my Android testing device so assume it will be good for you as well. Let's see on Monday if our developer Alex approves of my solution or if I'll get in trouble

Thanks for your patience and sorry about the time you spent wondering why it wouldn't work. I appreciate your help!
Hi Joel.
Translate is working fine on Android vers 6.
And now working on iPad mini IOS. Thanks Joel.
So pleased someone posted this, I didnt even know there was a "translate" function!
Very useful and works perfectly on my android👍
Sim! This is new within the past week. Yesterday we added the ability ti add phrases (that exist in our learning notes or lessons) to your Smart Review phrases to learn them as flash cards