This might just be an overloaded server, but I was doing lessons and things were running smoothly up until that point. I got to the last part of the lesson (audio with dialog) and pressed Continue to enter the lesson. Nothing happened. This is the screen I was on.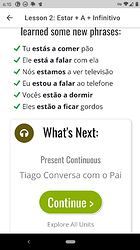 I clicked Continue a couple of times and just as I pressed back, it seemed to have loaded, but then I was back at the screen where I started my day. It's unfortunate that when I get to that page I can't tell it to reload right there (or have it do so automatically if you see the page has been idle for 10+ minutes). In any case, navigated to the home page and that did the desired reload, where I could see the part of the lesson I was supposed to go into. I clicked the button to start it and the page loaded right away, but unfortunately it came incomplete. You can see the area where the audio/scrolling controls should be is a blank.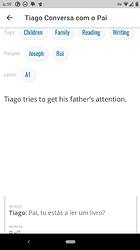 I reloaded the page (back in and re-entered) and it was okay. So maybe none of this has to do with the app and was just a transient problem.
To summarize, (1) it would be nice if when I press a button to start a lesson it gave me feedback right away, like a spinner or animation) and you could probably even lose your full-page animation for loading, (2) the page is weird when I navigate back and I know I reported something about that, but I've had some thoughts about how you might improve it and (3) I thought there was a broken lesson, but now I don't know what the cause was. My apologies for putting multiple issues in one ticket, but they all happened together in short order around the same part of the lesson.