When opening the app I now get this whirling gif for a long time (between 4-8 seconds) for ALL the landing pages except the review section. It's the same on the home page, the units page, the translator page and the learning page which looks like this for up to 10 seconds before properly loading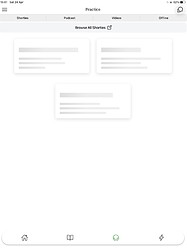 Within the sections themselves everything has gotten a lot slower overall. Thinking you might be working on the server I've waited for a couple of hours and tried again but it's the same, I've also checked and it's the same for @Lemonie90 on her iPad.